The Stealth
£599.99
Free Delivery
Splash Proof (IP44 rated)
Swappable Battery
Powerful
Whisper quiet
Want to try before you buy?
Product Detail
Powerful, fast and virtually maintenance free e-board with up to 32km range.
Technical Specification
Speed up to: 40KPH depending on rider weight, surface and if limiter removed
Maximum rider weight: 110KG

Deck Material: 7 Layers Canadian Hard Rock Maple, Size: 920mm x 240mm x 13mm
Wheel Material: 85A PU High Rebound Polyurethane
Wheel Size: 97mm diameter x 52mm width
Battery Type: Swappable Samsung/LG High rate Lithium battery
Battery Capacity: 36V, 5.5AH 20PCS cells
Charging Time: 2-3 hours
Distance Per Charge: Up to 25 Kilometres
Motor Power :DUAL HUB 350W
Transmission Model: Dual hub motor system
Board Weight: 7kg
Bolts: Alloy Steel Bolts
Reverse and Forward options on control.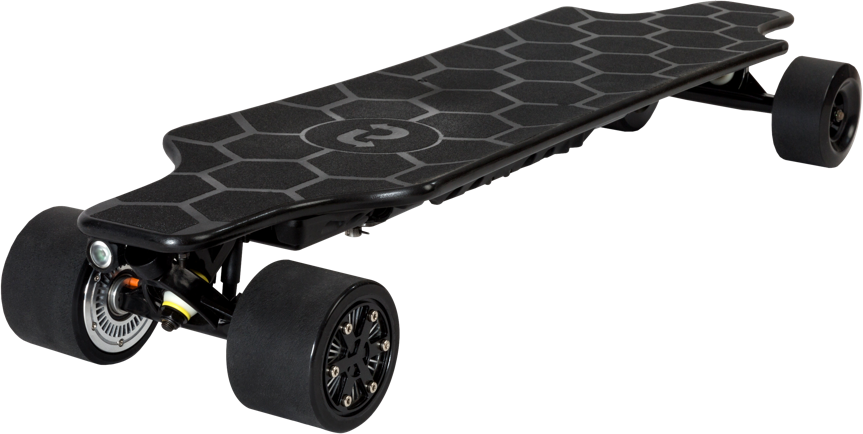 Engineered from experience
Using our powerful dual drive system and unique swappable 97mm hub motor wheels, our boards will ride on most uneven surfaces with ease.
Multi Surface Riding
Using our powerful dual drive system and unique swappable 97mm hub motor wheels, our boards will ride on most uneven surfaces with ease.
Swappable Battery Pack
The Grit Boards LG branded battery is safe, durable and is user swappable within a couple of minutes.
Whisper Quiet Operation
Our dual hub motors are quiet, powerful and virtually maintenance free.
Splash proof – Go anywhere
The Grit Board is IP44 certified splash proof to allow riding in all weather conditions and to ensure product durability, unlike most other e-boards on the market.
Deck
7-layer Canadian Maple Wood with unique grit tape design to maximise grip.
Wheels
97mm 85A PU wheels for improved dampening.
Bones Truck Bushes Upgrade
BONES truck bushes are best known for their quality and design, so we fitted them to every Grit Board for improved rider experience.
More power means more performance
Using our powerful dual hub drive system with 97mm wheels, the board will accelerate up to 40kph, propel you up a 25% incline and take you up to a distance of 25km with a charge time of only 2 to 3 hours!


Duel drive
Powerful dual hub drive system with 97mm wheels

40 KPH
The board will accelerate you up to 40KPH

25% incline
propel you up at 25% incline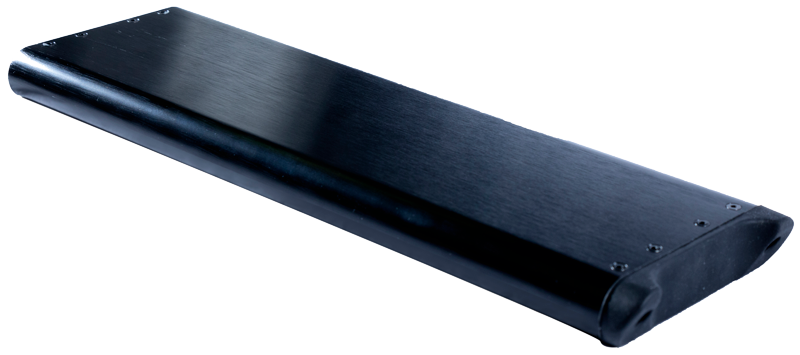 Go further with our interchangeable battery
LG/Samsung High Capacity 5500mAh Power battery.
Battery size
360mm x 112mm x 25mm

All Terrain Day or Night

Splash Proof
See it in action
Take a look at this video to see it in action
Effortless control
Ergonomic Design
Soft touch
Smooth acceleration and braking
Battery and signal indicator lights with vibration alerts.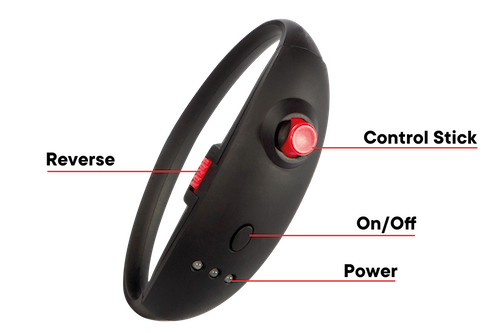 We're loving your feedback!
Matt Jones – Pro Mountain Biker
Woburn Sands
I tested the Stealth, the first e-board from Grit Boards before its launch. It was insanely fast, powerful and loads of fun! Great way to get around.
Daisy Mountford
Staffordshire
Excellent board and top quality service from this small, very helpful, UK based manufacturer. I have two batteries but hardly ever use them both as I am usually exhausted by the time the first one gives up. I mainly skate in Lichfield, which is fairly hilly, with a few multi storey car parks too, which I ride up, as well as down, no problem.
Thomas Evans
Buckinghamshire
I was amazed by how fast this board can go and how stable it was at high speeds. Definitely one of the best boards I've ridden! Swappable battery just means I can stay out longer.
Philip Stockdale
Surrey
Just wanted to pass on my appreciation of a fantastic product. Great build quality. Great performance. Great battery life. Great fun. Well done!!
We've got your back!

Researched
Cutting edge engineering to give you ultimate control

Developed and Improved
Developed with scientific precision and unrelenting passion

Tried and Tested
Years of tinkering to bring you the very best